Diane Purgason recalls sitting in between a young woman who had a one-month-old baby and a Walmart Superstore loss prevention representative. The woman said she stole baby food from the Walmart to feed her baby because she could not afford it.
As a mediator, or a conflict-resolution facilitator, Purgason had to come to an agreement with both parties to settle the robbery case. On one hand she had a woman with a newborn in need and on the other she had a corporation representative.
After the mediation began and the representative fully understood the situation, the woman received more baby food from Walmart.
Cases like these are why Purgason enjoys being a mediator.
"It's just awesome," Purgason said. "Especially these people who... didn't do that except to get food, it's all good for everybody and both sides. It's like both sides win something."
Purgason works with multiple cases such as these daily as the mediator manager at ReDirections of Rockingham and Alamance counties. This non-profit center aims to better the quality of life for the communities it serves by helping people come to agreements with their difference through mediation and other programs.
Despite mediating hundreds of cases a year, this center is only one of 16 mediation centers in the state of North Carolina. Out of the 100 counties in the state, only 60 are covered by these centers.
Though the success rate and demand for mediation programs is high in the state, it has not been easy for a center like ReDirections to sustain itself economically.
Helping the community
Purgason is one of three full-time employees in the Rockingham office for ReDirections. The center covers Rockingham, Alamance, and Caswell counties. Other counties that are not as populated in the state may not have mediation as an option. Lila Markley works in the Alamance office as the mediation program manager and is assisted by eight volunteer mediators.
When two parties have a dispute in Alamance County, there are two possible courses of action. The first option is a trial, in which both parties argue their case in front of a judge. This can be a more expensive and drawn out process for all parties involved due to court costs, legal fees and other associated expenses. Alternatively, the judge can recommend mediation to settle the dispute without a trial.
According to Purgason, mediation costs 60 dollars, which can be paid by any party. In a trial court, the losing party is required to pay at least 190 dollars, depending on the situation.
"The magistrate will generally decide whether or not a case is something that can be mediated or is eligible for mediation," Markley said. "And so when that happens then those cases are assigned for mediation."
Markley said the mediator is a neutral third party, often a volunteer, who is not affiliated with the court or any advocacy organization. These mediators undergo 40 hours of training to get certified to handle cases on their own.
One of the major differences between mediation and trial court is the mediators themselves. Bradley Allen, Senior Chief District Judge in Alamance County, said that they have a different goal than judges do. While a judge may place a heavy emphasis on the evidence and hear short pleas from both sides, a mediator works to understand the complete story.
"A mediator is not forcing their decisions or what they think should happen," Allen said.
Allen also said that this is one of the reasons mediation can be so successful.
"It works out better in the long run the majority of the time because they're the ones that have to live with whatever takes place," he explained. "It's better for them to have some input."
Despite this, mediation does not work for every case. Domestic violence, felonies, and, in some circumstances, private warrants will not go through mediation.
"You got a 50-50 chance when you go in front of the judge," Bonnie Dickens, ReDirections finance officer, said. "That's one of the real big things that I like about mediation."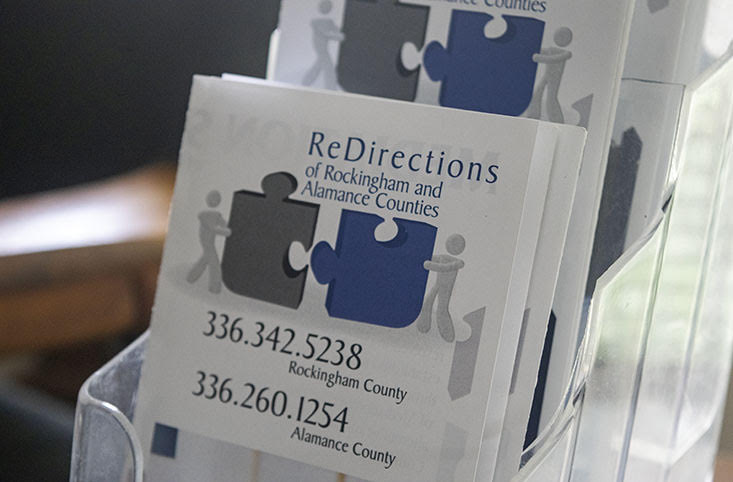 ReDirections helps facilitate mediation in Alamance, Rockingham and Caswell counties.
Though similar in how they process mediations, both Rockingham and Alamance counties differ in how they carry their mediations. For Rockingham, it runs on a case-by-case basis on any day of the week that works for both parties.
For Alamance, all mediations occur on Fridays. When mediations occur depends on what the district attorney in a specific county decides is the best way to carry them.
"The whole point is for them to tell their story," Markley said. "Each side says what they want to say."
As the neutral third party negotiator in mediations, Markley said when she began mediating it was hard hear both sides of a dispute and find a way to settle an agreement.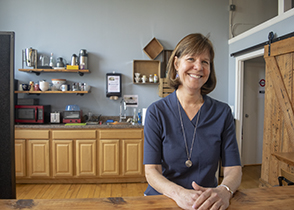 Lila Markley's office is located in the downtown Graham Cooperative.
"I would talk with one person and say, 'Oh my gosh, you know this terrible thing that happened to you,' and then you talk to the other person and you hear the other side and then you'd start getting some balance," Markley said.
Mediation is typically used for relatively minor misdemeanor crimes such as trespassing, theft of property and simple assault. Both the plaintiff and the defendant may opt for mediation to avoid a trial and a permanent mark on their record.
Benefitting from the program
In the United States, there are up to 175,000 people in jail for misdemeanors at any given time. Markley said that mediation centers such as ReDirections have the responsibility to resolve conflict and help people avoid serving jail time. This occurs if a district judge offers the option for cases to be mediated instead of taking them to court.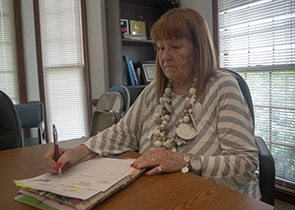 Diane Purgason is one of three full-time employees in the Rockingham offices of ReDirections.
Purgason remembers mediating a case between a young boy and his grandmother. She said the boy "put a hole" in his grandmother's wall, and because of some mental disabilities he had a difficult time communicating his reasoning.
Initially, she was going to press charges against her grandson, but through mediation the three were able to work out ways that the boy could help his grandmother fix and pay for the damage to her wall.
"They left there feeling good to each other," Purgason said."I think people are just very grateful to be able to talk to each other. Communication is the main thing they have to realize."
ReDirections began as a way to rehabilitate nonviolent offenders who would otherwise face jail or prison time in 1995. Its funding has come from program fees, fundraisers and grants. According to Dickens, the center handles roughly 400 cases a year in Rockingham county during a typical court calendar. She considers mediation a "win-win situation for both parties."