The coincidences kept fleeting by.
They didn't know each other existed – but they do now. With only about 900 children diagnosed with osteosarcoma each year, they were both surprised and perplexed how two of them could end up at a small and relatively unknown private school hundreds of miles away from their homes.
Freshman John Varney had a support system at home in a friend named Olivia, who also had Osteosarcoma. Senior and Boston-native Olivia Pierce remembered meeting the full roster of the Boston Red Sox, while Maryland-native but Boston sports fan Varney took a trip to the New England Patriots' football team. And they ended up getting dogs, named after Patriots' Quarterback Tom Brady, as a result of the painful experience caused by a long, deep scar travelling up their legs, knees, and thighs.
Like clockwork, they both recounted the stories in details of when they were diagnosed with osteosarcoma, a type of bone cancer that destroys local tissue and weakens the bone. It's most common in the knee, according to Dana-Farber Cancer Institute, which is where both Varney and Pierce were first diagnosed.
"I was so surprised," Pierce said when she first heard of Varney's story. "That's so rare you don't meet a lot of people unless you're in treatment with them."
What is Osteosarcoma?
Osteosarcoma is a type of bone cancer that most commonly forms in the long bones of the legs. Most diagnosed are also treated for long nodules as well. Doctors found cancerous nodules in Varney's lungs, but doctors found non-cancerous lymph nodes in Pierce's.
About 50% of all osteosarcoma diagnoses are in children, but only about 3% of all cancers are diagnosed as osteosarcoma, according to the National Cancer Institute. The cancer is more common in boys, but is most commonly diagnosed in children around the time of growth spurts; between the ages of 13 and 20.
Pierce was diagnosed much earlier in this timeline than Varney was.
Olivia's Story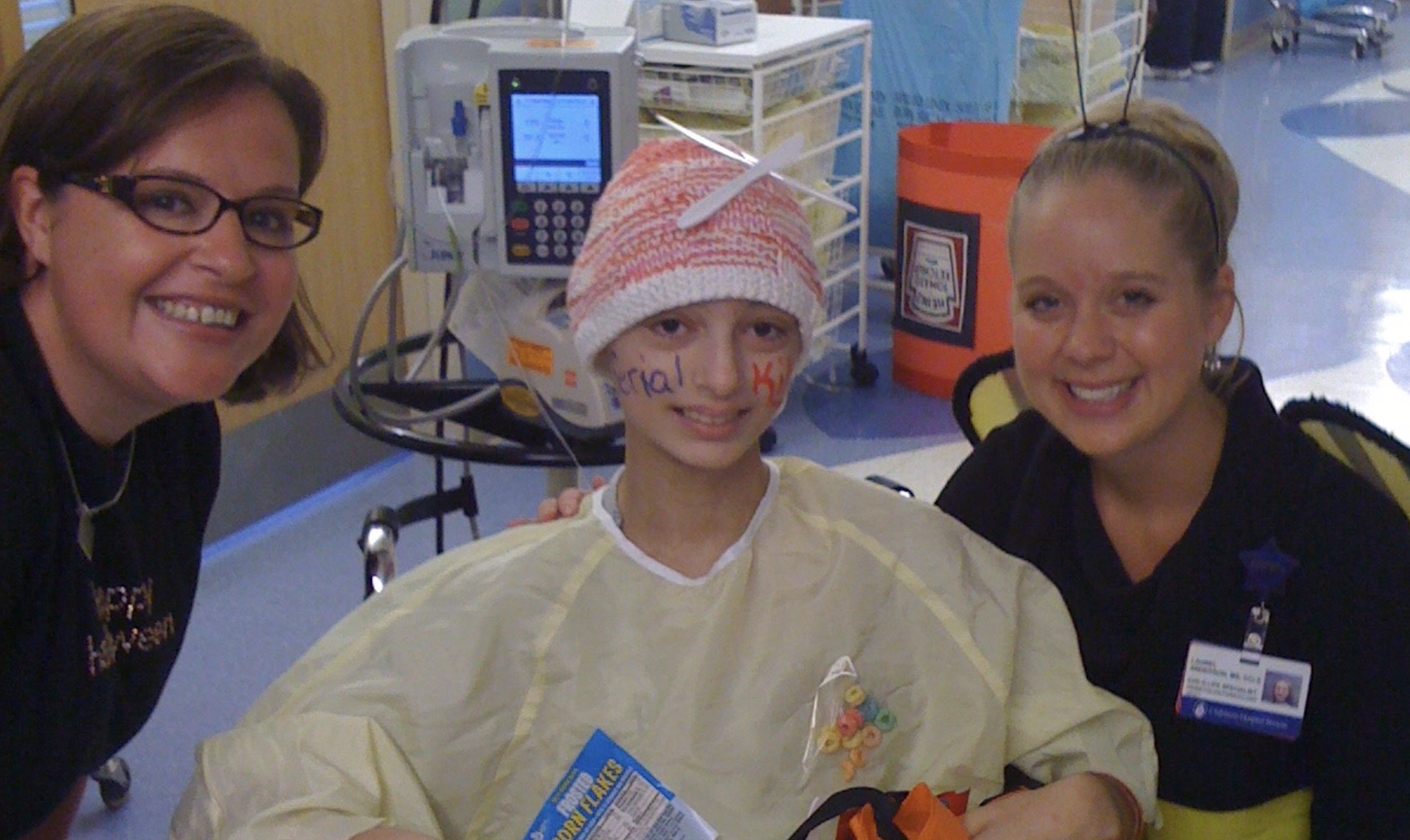 Olivia Pierce, 11, Child Cancer Survivor, on the day of her knee surgery.
Credit: Olivia Pierce
Olivia Pierce was only 11 years old when her ballet teacher pointed out a bump on her right tibia. After several hours that turned into several days, the results were in: She would become one of only 3% of children diagnosed with osteosarcoma. At the time, she knew something was wrong, but she couldn't fully process what was going on.
"They told me it was a growing disease," Pierce said. "And then the bump formed. I couldn't even walk. It's so crazy because you'd never think that this would happen to girls that are so active."
After nearly a year of treatment, she finally was able to get a 13-hour-long surgery. It would leave her with a long scar on her knee and some more marks on her back, hip, and shoulder to remind her daily of her painful journey. But it would also leave her cancer-free.
Since that surgery nine-years-ago last month, she's added some new scars of her own to remember what she went through. One, in particular, commemorates the date she would leave behind the painful disease for good. She got a tattoo on her left side during her first year at Elon University. To her, it was the first step in a new journey.
"It was very tough," Pierce said. "I would never look in the mirror and say, 'I look great in this outfit.' Or 'I really feel beautiful.' I realized that I shouldn't be like that. What happened to me – happened to me. You can't change that. I see my scar now and I'm like 'wow, I did that! That was me, good for me!"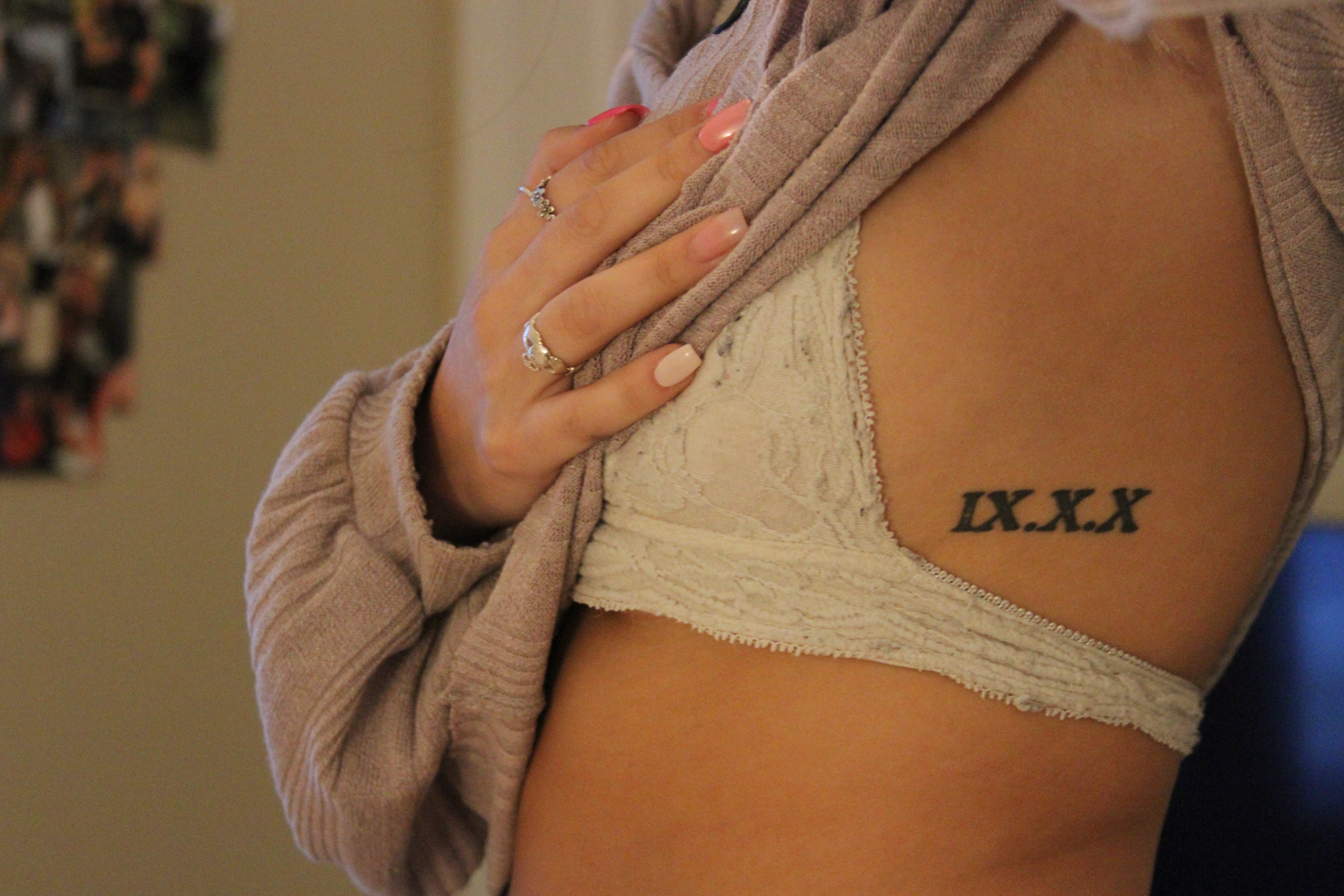 Pierce got a tattoo her freshman year of the date September 10, 2010 -- the date of a surgery that kept her cancer free.
None of her scars would ever fully heal, definitely not the permanent ones she gave to herself. But some scars you can't really see. During her second year at Elon, her knee became infected and she had to go home to get it treated. During this trip, she was diagnosed with clinical depression and anxiety, and discovered the long-lasting effects her chemotherapy would have on her brain. About 20% of long-term cancer survivors eventually exhibit symptoms of anxiety and depression, according to the National Institutes of Health.
"I take pills for everything: cancer, anxiety, depression," Pierce said. "And it's really hard. You have to grow up way faster than anyone expects you to. People don't realize how mature you have to be to handle all of this that's on your plate."
Now, Pierce wants to use her experience to help others travelling the same timeline. Luckily for her, a new student was about to do just that.
John's Story
John Varney, Child Cancer Survivor, found out his cancer treatments had been successful two days before moving into Elon University.
John Varney was 17 when he went on a white-water rafting trip. For the months following the trip, he started experiencing some left knee pain. He figured he had sprained it during his trip, and went to get it checked out at his physician. He was referred to an Oncologist.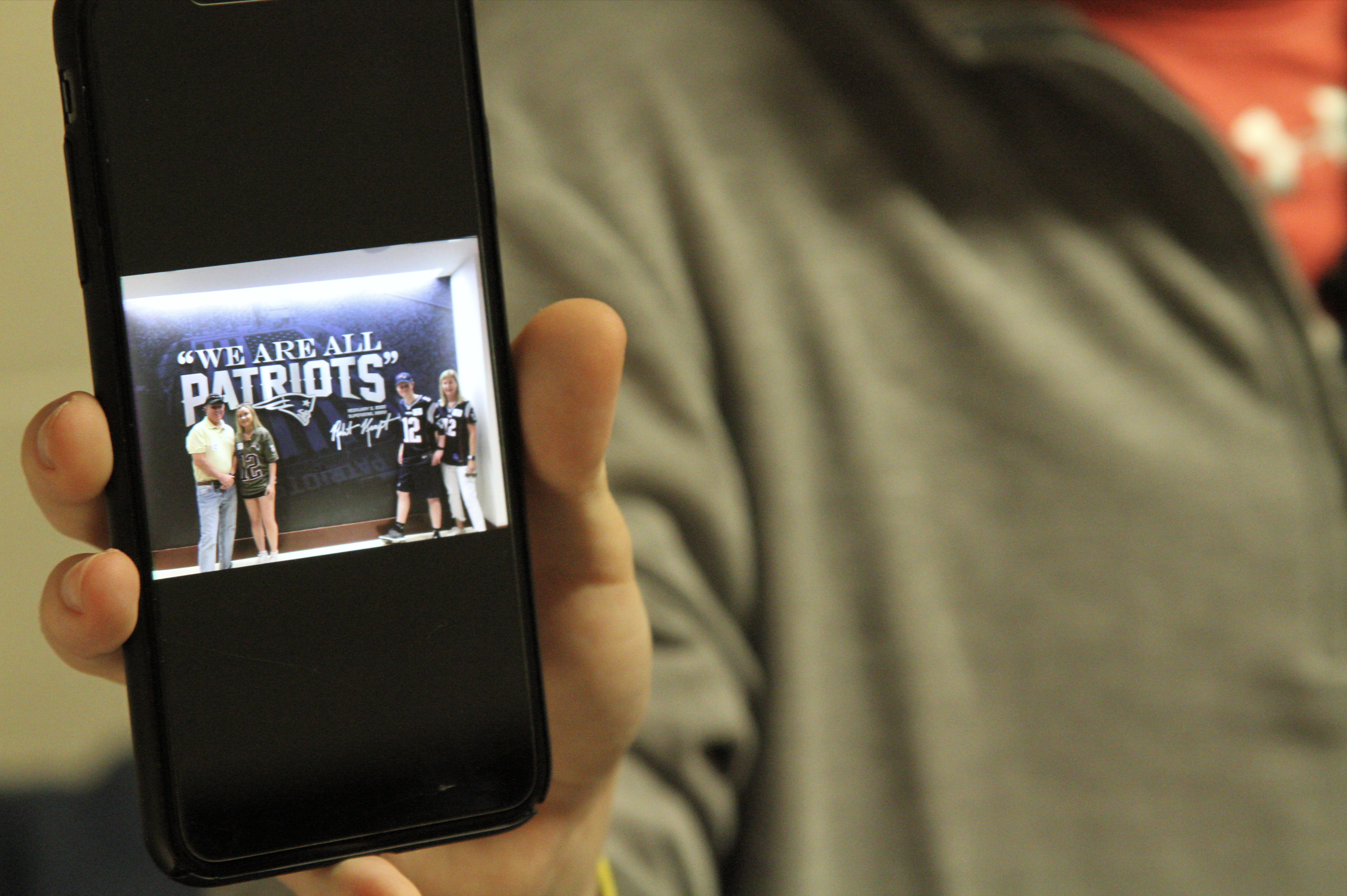 Shortly after his treatment, The Make a Wish Foundation sent Varney to Gilette Stadium, home of the Patriots.
"We were like, 'Woah,'" Varney remembered. "I knew what an oncologist was. My uncle is an oncologist. But I was like, 'An oncologist why do I need to see an oncologist? It's just like a knee sprain.'"
Varney would soon learn his discomfort was far beyond a standard sprain. Varney was diagnosed with Osteosarcoma, at a time when about 47% of childhood diagnoses happen.
"My dad he keeps to himself emotionally," Varney said. "So he was being really strong. But in secret, him and my mom were terrified. They didn't let me see that, but I could tell."
As a high school junior, an age when most kids his age were worrying about SAT scores and thinking about college applications, Varney up-ended his traditional lifestyle to move to New York to get surgeries, undergo treatment, and encounter sympathetic admirers.
"A lot of friends look at me like the bravest person they've ever met," Varney said. "But a lot of the kids I've met, they're the really brave ones. And my cancer was much more severe than some of them."
The treatments continue through this day – including this past summer when he found out that pills he had been taking not only stopped his nodules from growing – but they shrunk.
"At that point, it didn't really hit me yet that I might not have been able to go to Elon. When they did tell me that I could go, I was like, 'Well, yeah, why wouldn't I?'"
Today, Varney still takes those same pills in the hope that they will continue to shrink the cancer cells in his lungs. But he acknowledges those scars may never fully heal and that he may have to continue taking those pills for the rest of his life.
Following in Her Footsteps
In a mid-sized private school hundreds of miles from Pierce and Varney's homes is where their timelines would finally cross by living within minutes of each other. Two students a quarter-way through their journeys, but with their whole lives ahead of them.
"I found my people and I opened up my world to them," Pierce said. "I hope he finds those people because once you do you have that support system. I just think reaching out to other people and making those friendships and those long-lasting memories with them. That's literally how I got through it."
Pierce is much further along in her journey. If you ask her now that she's preparing to graduate from college, you'd never know about the painful journey exemplified only in a scar extending from her right knee halfway down her shin. A pain that she would never let show through when she was Varney's age.
"I feel for him because he's probably feeling like he's different," Pierce said. "Feeling self-conscious feeling like you can't do the same things that other kids are doing."
A feeling Varney is passing through now.
"I'm still going through it," Varney said. "But I've moved past that point in my life."
"It Gets so Much Easier – and I'm Living Proof of That."
With only a three-year age difference between Pierce and Varney, the only difference that lies in the pair's experiences with surviving cancer is their minor age difference – an age gap that could make all the difference.
"You went through something amazing and you survived it that's such a big deal," Pierce said. "I want him to be comfortable in his own skin. I want him to show off his scar. The fact that he's a freshman just gives him such a big opportunity for people to get to know him for him and not just his cancer."
"I'm happy. I can truly say that I am happy in my own skin. I used to look back and think, 'why does this have to happen to me? Why does my leg have to look like this? And now I'm just like I love my leg.' Time will heal everything I think."


— Olivia Pierce, Child Cancer Survivor
"I think about it but I don't really let it bother me at all," Varney said of his outlook on life now. "Everything happens for a reason. All I know is, eventually, I'm going to be married, have kids and anything that happens before that is just going to lead me there."
Pierce is now on track to graduate in May. After graduation, she wants to go to nursing school and hopes to find herself back where her journey first began.
"I want nothing more than to be at a children's hospital in Boston on the sixth floor working with the cancer kids," Pierce said. "They don't just help the patient heal, they help the family heal, they help the community heal, they help the doctors heal."