EDUCATION
Elon University

Elon, NC
Masters of Arts, Interactive Media
Anticipated Graduation: May, 2015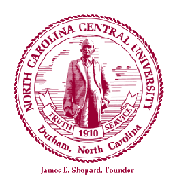 PROFESSIONAL EXPERIENCE
Administrative Assistant

NCCU College of Arts & Sciences, Durham, NC 09/2013 – 05/2014
Created and organized administrative portfolios, records and reports for 70+ faculty members.
Assisted with the implementation of quality improvement programs and the coordination of departmental events.
Assisted with developing effective resolutions for conflict between faculty and students.
Resident Assistant

NCCU Department of Residential life, Durham, NC 08/2012 – 05/2014
Maintained an active leadership role through implementing and preserving a productive living learning environment.
Oversaw student engagement, community development, administrative tasks, and student safety.
Served as a liaison for all campus resources and first respondent to resident needs or concerns.
Speaking Coordinator Assistant

NCCU Quality Enhancement Plan, Durham, NC 02/2013 – 12/2013
Facilitated 1 on 1 consultations with students seeking assistance with oral and written communication.
Developed and implemented effective critical thinking and public speaking techniques.
Assisted with the creation of several multimedia projects and promotional campaigns.
Supplemental Instruction Leader

NCCU Department of Supplemental Instruction, Durham, NC 12/2011 – 05/2013
Facilitated individual and group student engagement sessions.
Worked closely with faculty to improve student development and retention in traditional English courses.
Developed effective grammar exercises and essay composition strategies.
INTERNSHIP EXPERIENCE
NCCU Office of Public Relations Intern

NCCU Office of Public Relations, Durham, NC 08/2013 – 05/2014
Created visual media projects for university campaigns, activities and special events
Maintained social media websites while promoting student and faculty engagement
Composed press releases and media kits while mastering the use of media technologies and software
SKILLS